Urban Kitchen: smart, simple products for the urban chef
The user: The modern, nomadic apartment dweller.
The problem: Limited kitchen counter and cabinet space.
The solution: Clever products that make smart use of limited room.
In modern kitchens, space is always at a premium. Designed with the urban apartment in mind (but useful to all cooks), the Urban Kitchen brand combines innovative function and space-saving utility with a clean, contemporary look.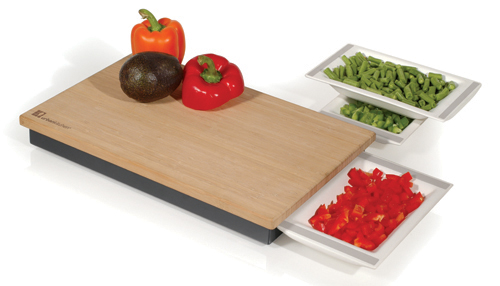 Cut & Prep System: This system combines a large cutting board with multiple prep trays and eliminates the need to lift the board in order to scrape ingredients into the pot. The trays can be stacked with ingredients to reduce the counter-top footprint or stored inside the cutting board when not in use.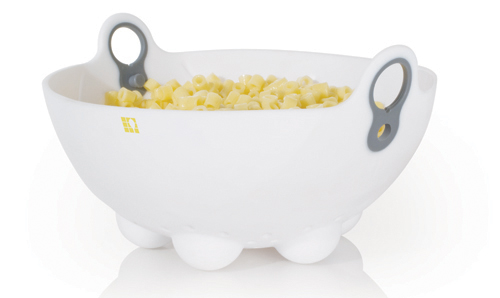 Folding Colander: This 2-quart colander is made from flexible rubber for compact storage.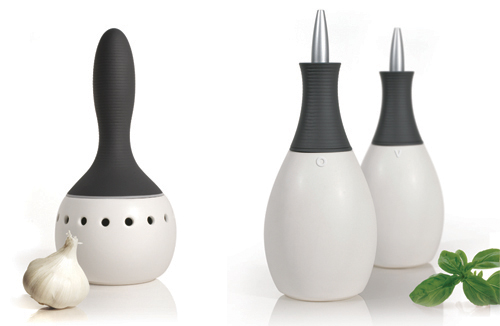 Garlic Stash & Smash (left): This cellar keeps garlic in the dark, maintaining freshness and preventing growth. The lid also functions as a peeling mallet, allowing the chef to smash a clove and remove the skin much more safely than with the side of a knife.
Oil and Vinegar Cruets: The tops of these stylish cruets have a drip-catch bowl to keep the table clean.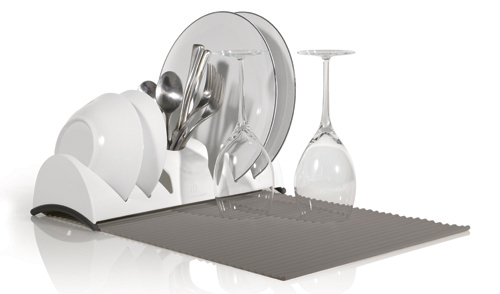 City Dishrack: This dishrack provides space for the dishes from a typical dinner for two. The rubber drying mat rolls up and stores snugly inside the rack for out-of-the-way storage.
The Urban Kitchen brand was developed in conjunction with Christopher Raia Studio, Hammock Productions, and Boston Warehouse.
For more housewares, see the Greens and Animal House.